10 things to do under $10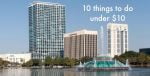 We're scoured Central Florida for the top 10 things to do under $10. Here are our picks.


Enzian Theater showcases independent and classic films and also hosts Wednesday Night Pitcher Shows, free weekly outdoor movies played on a giant screen.
The Orange County Regional History Center offers a wide variety of creative exhibits and programs designed for children, including art stations and free family guides for exploring the museum. Tickets are $6 for kids and $9 for adults.
Orlando Museum of Art dedicates itself to collecting, preserving and interpreting notable works of art to enrich the cultural life of Florida. During the monthly event, 1st Thursdays, the museum showcases a new theme of art by local artists accompanied by live music, cash bar and café with selections by area restaurants. Admission to this event is $10 each.
Bok Tower Gardens a picturesque park atop one of Florida's tallest hills, is crowned with a Gothic bell tower that rings daily with carillon music. Guests can enjoy the tranquil and expansive gardens, museum and Pine Ridge Trail. Entry is $3 for kids and $10 for adults.
Central Florida Springs, Florida's natural cooling system, is a fun place to visit year round. In the summer, take a dip in the refreshing water. In the winter, go on a picnic or a canoe trip. Admission is around $6 per person or $2 per person, depending on the park.
Scott's Maze Adventures, located in Zellwood and open in the fall, features a 6-acre corn maze, 3-acre tree maze, picnic area, nature walk and various entertainment attractions. Admission is $8 for kids and $10 for adults.
Oak Haven farm grows bright red strawberries ripe for the picking during February through April in Central Florida. Fill your own basket with juicy berries, order a strawberry shortcake at the fresh market and enjoy an afternoon picnic. Pick-your-own prices start at $2.30 per pound.
Leu Gardens is a beautiful 50-acre botanical oasis minutes from downtown Orlando. On the first Friday of the month, snuggle up with your date for an outdoor movie under the stars for just $5 each. Garden admission is free on the first Monday of each month. Regular ticket price is $2 for kids and $7 for adults.
Fun Spot Attractions has more than 100 games, a multi-level go-kart track, 13 rides and more. Go-Kart and single ride tickets can be purchased for less than $10 each.
Hawaiian Rumble Adventure Golf challenges golfers with a Hawaiian-themed course featuring a waterfall, volcano and musical fountain. The course costs $7.95 for kids and $9.995 for adults.