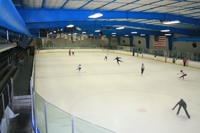 Glide across the ice and save some bucks.
The Ice Factory in Kissimmee offers some money-saving deals.
During Cheap Skate Tuesdays 5:30 p.m. to 7:30 p.m., the fee  is $6, which includes skate rentals.
Other deals include
$5 for afternoon skating  3 p.m. to 5 p.m. The fee includes rentals.
Family Nights  are Saturdays  7 p.m. to 11 p.m.  A package for $40 (a $73 value) includes skating, pizza and soda for five people.
The Ice Factory of Central Florida is at 2221 Partin Settlement Road, Kissimmee, 407-933-4259.