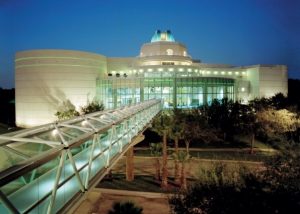 Walmart $5 Day is back at the Orlando Science Center on Sunday, March 1. For just $5, you will experience all OSC has to offer from exhibits and hands-on activities to giant-screen films. General admission fees are usually $19 for adults and $13 for kids — a family of four will save $44!
Discover the latest traveling exhibit "Dora & Diego — Let's Explore"; see the newest 3-D film "James Cameron's Deepsea Challenge 3D"; catch the newly released giant-screen spectacular "Humpback Whales"; and experience four floors of hands-on exhibits and live activities that will engage the family and inspire their curiosity.
The discount admission is offered by Walmart Foundation. The $5 admission makes it possible for the Central Florida community to visit the Orlando Science Center, inspiring science learning for life at a significant discount.
Orlando Science Center
777 E. Princeton Street
407-514-2000