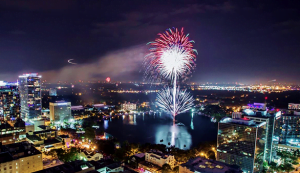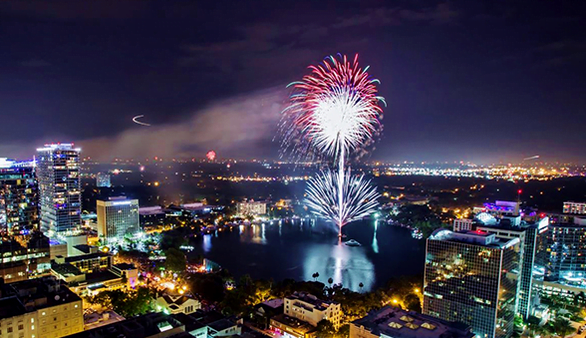 There's no need to shell out a ton of cash to buy your own fireworks for Independence Day in Orlando. You can experience magnificent fireworks displays without spending a penny. Nothing compares to the amazing fireworks shows that will burst all around Central Florida for the 4th of July. Most Central Florida cities are hosting an afternoon of old fashion fun, games, food, and vendors with a fireworks finale. Bring along chairs, a blanket and picnic…and be prepared for the crowds. We've rounded up 10 free fireworks shows & 4th of July events near Orlando:
Fireworks at the Fountain
Lake Eola Park in downtown Orlando
Monday, July 4 live entertainment starts at 5 p.m. (fireworks at 9 p.m.)
Red Hot & Boom
Cranes Roost in Altamonte Springs
Sunday, July 3 from 4 p.m. to 11 p.m. (fireworks at 9:30 p.m.)
Star Spangled Sanford
Fort Mellon Park on Sanford Riverwalk
Monday, July 4 from 4 p.m. to 10 p.m.
Mount Dora Freedom on the Waterfront
Downtown Mount Dora, Elizabeth Evans Park
Sunday, July 3 at 4 p.m. (fireworks at dusk)
The City of Oviedo Independence Day Celebration
Oviedo Mall
Monday, July 4 from 5 p.m. to 9 p.m. (fireworks at 9 p.m.)
Winter Garden Party in the Park
Newton Park
Monday, July 4 starting at 5:30 p.m. (fireworks at 9:15 p.m.)
Celebration All-American 4th of July
Celebration Town Center
Monday, July 4 starting at 4 p.m. (fireworks at 9:15 p.m.)
Kissimmee's Monumental July 4th Celebration
Kissimmee Lakefront Park
Monday, July 4 from 5 p.m. to 9:30 p.m. (fireworks at 9:30)
Baldwin Park Independence Day Bash
Village Center of Baldwin Park
Sunday, July 3 from 5:30 p.m. to 10 p.m. (fireworks at 9:15 p.m.)
4th of July Celebration at Avalon Park
Downtown Avalon Park
Saturday, July 4th from 5 p.m. to 9 p.m. (fireworks at dusk)