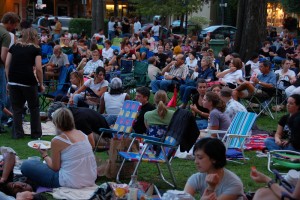 While the weather is nice, it's the perfect time to watch movies under the stars in Orlando. Pack a blanket and bring along family and friends for free popcorn and an outdoor film screening in Winter Park. Popcorn Flicks in the Park, presented by Winter Park and Enzian Theater, features classic movies on a giant screen.
The feature on March 28 at 8 p.m. is 'The Dirty Dozen.' A Major with an attitude problem and a history of getting things done is told to interview military prisoners with death sentences or long terms for a dangerous mission; to parachute behind enemy lines and cause havoc for the German Generals at a rest house on the eve of D-Day.
If the weather is questionable, call Enzian's Box Office at 407-629-1088 x230 to confirm.
Check our list for more free outdoor movies in Central Florida.
Leave a Reply