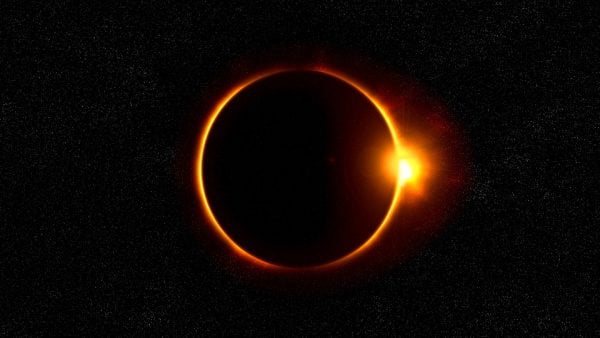 As if you haven't heard, on Monday, August 21, there will be a total solar eclipse. All over the United States, people will turn to the sky to watch the moon totally eclipse the sun for the first time in 99 years. Central Florida and Orlando will experience the eclipse at 85% totality. We've compiled this guide on where to watch the solar eclipse in Orlando. There are many viewing events and pre-eclipse info sessions scheduled in the area.
What's a total solar eclipse? For just a few minutes, the moon will pass between Earth and the sun, completely blocking the sun's light — bringing temporary darkness to the day. (Depending on where you live, the coverage will vary.) In any case, it's not to be missed, given it's such a rare occurrence. It's the first time since 1918 that a total solar eclipse will cross the entire continental U.S.
Practice safe eclipse viewing. Even though the sun and its brightness will be partially blocked by the moon, viewing the eclipse is still just as dangerous as looking directly at the sun on a normal day. Make sure you use special eclipse viewing glasses or attend one of the events below for a safe viewing environment. Read more on how to view a solar eclipse safely at eclipse.aas.org/eye-safety.
We'll update this post as more Orlando eclipse viewing locations are announced, so make sure to check back often!
PRE-ECLIPSE INFO SESSIONS
Eclipse Across America
Wednesday, August 16, 3:30 p.m.
Herndon Branch Library
Eclipse Across America
Monday, August 21, 2:30 p.m.
Washington Park Branch Library
TOTAL SOLAR ECLIPSE VIEWING LOCATIONS
Dr. Phillips Center
August 21, 1 p.m. – 4 p.m.
Seneff Arts Plaza
Free
Join Orlando Science Center staff for free eclipse glasses (while supplies last), telescope viewing and solar-themed demos and activities. Food trucks on-site, concession open; and you can take a break from the heat in the lobby.
Winter Park: Central Park West Meadow
August 21, 1 p.m. – 4 p.m.
150 West Morse Blvd.
Free
Hosted by Orlando Science Center staff. Arrive around 12:30 p.m. to ensure you receive free eclipse glasses.
Wekiva Island
August 21, 2:30 p.m. – 5 p.m.
1014 Miami Springs Drive, Longwood
Free entry, $3 Kona Brewing drafts and free eclipse glasses
Emil Buehler Planetarium at Seminole State College
August 21, 12 p.m. – 4:30 p.m. with point of maximum eclipse at 2:15 p.m.
Free
Viewing area: front sidewalks of the Automotive Technology building on the main campus of Seminole State College. They will have telescopes and binoculars on hand as well as presentations to learn more about the event.
Solar Eclipse Viewing Parties Orange County Libraries
August 21, 1:27 p.m.
Branches include: Alafaya, Chicksaw, Eatonville, Herndon, South Trail, Southwest, Washington Park, West Oaks, Windermere and Winter Garden.
Free
Maitland Library Viewing Party
August 21 at noon
Free
Celebrate at all Seminole County Libraries
August 21, 1:30 p.m. – 4:30 p.m.
Free
VIEWING WITH PURCHASE
Orlando Science Center
August 21, 1 p.m. to 4 p.m.
With general admission, guests will be able to view the solar eclipse safely with special glasses and/or using the solar telescope filters; make phone filters to capture great photos of the eclipse; see solar eclipse demos and presentations; and more! Kids will enjoy getting creative with solar-themed crafts and hands-on sensory activities.
Admission: free for members, $20.95 for adults, $18.95 for seniors and students, and $14.95 for kids 3 – 11.
Kennedy Space Center
August 21, 11 a.m. – 4:30 p.m.
Viewing area: Rocket Garden
With your purchase of admission to Kennedy Space Center ($50 adults, $40 for kids 3-11), you can watch the eclipse with space experts while wearing complimentary NASA-approved viewing glasses.
READ MORE:
Free summer outdoor movies in Orlando
Free museum days in Orlando
SIGN UP to be the first to know about deals and discounts! Get free email updates.