This year, Easter falls on Sunday, April 1, 2018 and that means the Bunny is busy hiding eggs throughout Orlando. Whether you are looking for a fun egg hunt in Central Florida or a beautiful place to reflect and worship during a sunrise service, we have a few ideas for Easter events and egg hunts in Orlando. 
COMMUNITY EGG HUNTS
Sanford Easter Eggstravaganza
Saturday, March 31 at 10 a.m.
All children ages 12 and under are invited to bring their baskets to collect goodies and meet the Easter Bunny at Fort Mellon Park.
City of Ocoee Annual Easter Eggstravaganza
Saturday, March 31, 10 a.m. – 12 p.m.
Enjoy arts and crafts, face painting and bounce houses at the Jim Beech Recreation Center. Make sure to bring your baskets because thousands of candy-filled eggs will be scattered across the lawn.

Winter Park Easter Egg Hunt
Saturday, March 31 at 9:30 a.m.
More than 10,000 eggs will be up for grabs throughout Central Park in downtown Winter Park for the 64th Annual Egg Hunt. You know it must be a fun event when it has been going on for 64 years! Kids up to 10 years old are welcome; every kid will walk away with goodies.
Oviedo Marshmallow Drop
Saturday, March 31 at 10 a.m. at Riverside Park
$3 in advance, $5 at the gate (cash only)
The City of Oviedo will drop thousands of marshmallows from the sky for the kids to collect and exchange for candy. It's a sweet alternative to hunting for eggs.
Easter at Maitland Community Park
Saturday, March 31, 9 a.m. – 12 p.m.
Hop to it for free family workouts, pictures with the bunny and more fun activities.
Casselberry Easter Egg Hunt
Saturday, March 31 at 10 a.m.
Hop on over to Secret Lake Park for games, crafts, an egg hunt and community fun brought to you by local churches.
Magic 107.7 Easter Egg Hunt
Saturday, March 31, 9:30 a.m. – 12 p.m.
Go on the hunt for a whopping 20,000 eggs and enjoy an a morning of family fun in the downtown Longwood Historic District. The outdoor event is free, but you can purchase tickets for a special Bunny Breakfast in advance; $9 adults and $7 for kids.
Mount Dora Library Easter Egg Hunt
Saturday, March 31 at 10AM
W.T. Bland Public Library
Bring your little bunnies to Mount Dora for an egg hunt on the lawn and a special appearance by the Easter bunny who will arrive on a fire truck.
Thornton Park Annual Easter Egg Hunt
Saturday, March 31 at 10 a.m.
Mayor Carl Langford Park
Hosted by the Thornton Park Neighborhood Association. RSVP required.
Apopka Easter Eggstravaganza
Saturday, March 31 at 9:45 a.m., egg hunt begins at 10 a.m.
Northwest Recreation Complex
Free event with face painting, prizes and photos with the Easter bunny.
Lake Mary's Flashlight Easter Egg Hunt
Saturday, March 31, 6PM-8PM
No Limits Church, Lake Mary
Flashlight Easter egg hunt, bounce houses and food trucks.
Orlando Fire Museum Easter Egg Hunt
Saturday, March 31, 10AM-11:30AM
Orlando Fire Museum Lawn, Orlando
Kids' activities, fire truck tours, and prizes!
Hoppin' Hunt 2018
Saturday, March 31, 10AM-12PM
MLK Park On Lake Silver, Winter Haven
Free event. Tons of kids activities including kiddie train, music, face painting, kayaks, and egg hunt.
MEET THE BUNNY
Mall at Millenia
March 10 – 31
Kids of all ages can meet the Bunny and get a complimentary gift. You can take your own photos (with a $10 donation to Noah's Light Foundation) or opt for a professional photo package.
The Florida Mall
March 9 – 31
You can reserve your appointment online before you go.
Bass Pro Shop Easter Photos and Event
March 24 – April 1
Bass Pro Shop, Orlando
Free crafts, 4×6 photo, and Easter egg hunt.
SPECIAL EASTER EVENTS

Central Florida Zoo Hippity Hop Adventure
Saturday, March 31, 9 a.m. – 3 p.m.
Event included in zoo admission (adults $19.50, kids $13.75).
Hop through the zoo to find clues from the Easter Bunny. Kids will have a chance to win candy and prizes at Bunny Stops along the way.
Morse Museum Open House
March 30 – April 1
The world's most comprehensive collection of works by Louis Comfort Tiffany is housed right here in Winter Park, Florida—and you can experience it for free Easter weekend.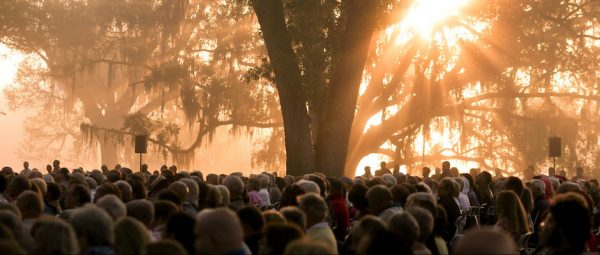 SUNRISE EASTER SERVICES
Easter Sunrise Service at Bok Tower Gardens
Sunday, April 1 at 7 a.m.
Free
Worth the drive! Easter worshippers are offered free admission to the beautiful gardens from 6 a.m. to 8 a.m. to experience a sunrise service with a choir and live carillon performances.
Easter Sunrise Service at SeaWorld
Sunday, April 1, doors open at 5:30AM
Free admission to the service and parking
Would you like us to add an event to this list? Email info@orlandoonthecheap.com.
READ MORE:
Cheap things to do with kids in Orlando