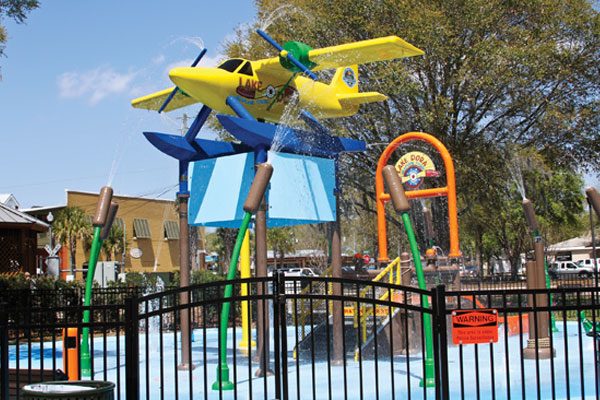 As the temperatures heat up this summer, Orlando offers many cheap and fun places to cool off. A local splash pad is the perfect option when you have little kids in tow, and there are plenty splash pads near Orlando. Parks are free or charge up to $3 each (usually cash only) and most offer resident pass deals. Check with each park for seasonal schedule and operating hours.
Free splash pads:
Winter Garden Splash Pad
104 S. Lakeview Avenue
Free
Shady Park, Winter Park
721 New England Avenue
Free
Barnett Park, Orlando
4801 W. Colonial Drive
Free
Oviedo Splash Pad
Center Lake Park, 299 Center Lake Lane
Free

Small fee splash pads:
Tavares Children's Splash Park
Wooton Park, 100 E. Ruby St.
$2 per person
Ocoee Aquatic Center
1820 A.D. Mims Road
$1.50 for adults and $1 for kids, seniors
Lake Mary Trailblazer Park
550 Rantoul Lane
$2 per person
Fort Mellon Park, Sanford
600 East First Street
$2 per person
Downey Park, Orlando
10107 Flowers Avenue
$1
Dr. Phillips Community Park
8249 Buena Vista Way, Orlando
$1
Torasco Park Splash Pad, Winter Springs
104 N. Moss Road
$3
Eustis Aquatic Center
250 Ferran Park Drive
$3
Champions Splash Park, Clermont
100 3rd Street
$2
Central Florida Zoo Splash Ground
3755 NW Highway 17-92, Sanford
Zoo admission required
READ MORE:
Cool and natural Florida springs near Orlando
SUMMER BUCKET LIST: 42 free or cheap things to do in Orlando this summer
SIGN UP to be the first to know about deals and discounts! Get free email updates.